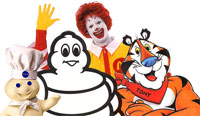 Museum of Advertising Icons
Once upon a time, Ritchie visited a local antique show. There, he found a pair of Miller Brewing Company "Girl in the Moon" 5 inch molded figures. Since he had worked for Miller, he decided to purchase the figures and place them on the front desk of his agency, CreatAbility. He then spotted a 12 inch Mr. Bubble and decided to add him to the two beer icons.
On the way home, Ritchie had an idea: How about actually building a collection? In the following weeks, he visited shows and contacted dealers throughout North America buying pieces for this new collection called - "CreatAbiliTOYS! Museum of Advertising Icons."
(....CONTINUED BELOW THE YOUTUBE FRAME)
Museum of Advertising Icons Part 1
Museum of Advertising Icons Part 2
Museum of Advertising Icons Part 3
What started with the Miller Girls and a $5.00 Mr. Bubble grew into the world's largest documented museum of 3D advertising icons. With over 900 pieces, the museum was housed in Ritchie's agency.
The collection, accredited by the American Association of Museums, has been featured on CNN, the History Channel, Showbiz Today, Food Network, HGTV, Headline News, f/x, CBS, Entertainment Weekly, and in Newsweek's U.S., Japan and Spanish editions.
However, as with many collections - they tend to change hands. This was the case with the Museum of Advertising Icons. Years ago, Ritchie was in Kansas City meeting with the award-winning agency, Bernstein Rein. At the end of yet another successful meeting, he turned to BR President Steve Bernstein and said, "If there's anything else you need, let me know."
Ritchie wasn't even at the door when Steve said, "As a matter of fact there is, if you ever want to sell the Museum give us a call." Well wouldn't you know it, time passes and Ritchie is finally ready to find a new home for his collection.
It must be said, that since it's inception, buyers from around the world were calling to purchase the collection. However, it just didn't feel right with the other groups. For goodness sakes, this was Ritchie's iconic family and he wanted to ensure its legacy with truly creative and innovative guardians. Well, his wish came true. Steve and his team purchased the entire collection, the 7 foot Jolly Green Giant and all. The collection will soon be featured in a one-of-a kind 12,000-square-foot museum located in Kansas City. It will be home to more than 2,000 legendary advertising icons.